What is your favorite bed's claim to fame? For Puffy, a popular online mattress brand, it's the appearance of its product on Ellen in 2017. And the following it has amassed since. Beyond the numbers, however, it's its quality that can make the biggest impact. You will know more about the construction, performance, and durability of the Puffy Mattress in this guide.
The company offers 2 memory foam mattress options. Its flagship model is the Puffy Mattress, a 10-inch, 3-layer beauty. An upgrade to this is the 12-inch, 4-layer Puffy Lux Mattress. We will look more closely into both models, specifically their construction and materials, firmness and feel, cooling, edge support and sinkage, motion transfer, pricing, and other factors.
After examining how they fare with regard to the criteria, you can refine your research based on our findings as to who should buy a Puffy Mattress. So read on and enjoy this packed resource we prepared especially just for you.
Puffy Mattress Review – Unbiased & Updated
The Puffy Mattress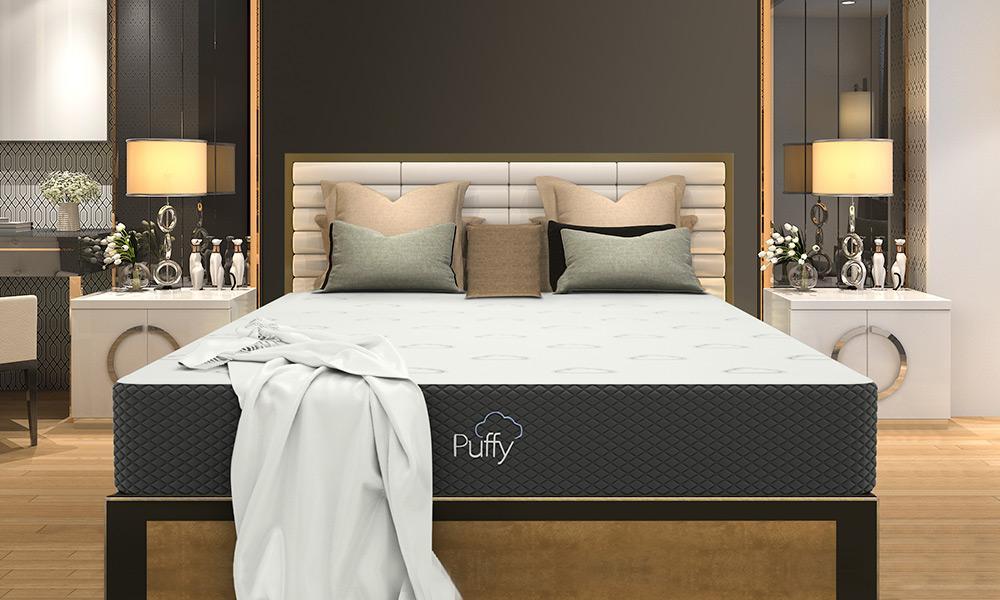 Construction & Materials
The patented Puffy Sleep System makes up this mattress model. Its 3 layers are composed of the following: 2-inch Cooling Cloud Foam top layer, 2-inch ClimateComfort layer, and the 6-inch Firm Core Support base layer. Puffy is proud of its Cooling Cloud Foam, the result of 4 years of study and testing. It's adaptive and breathable, with a feel that's better than that of typical memory foam.
Foams may contract or expand when the temperature rises or dips. With ClimateComfort, the Puffy Mattress is able to neutralize temperature and maintain its shape. Meanwhile, the Firm Core Support polyfoam makes the bed responsive. This base layer is unique to the brand and is better than most standard base layers.
A zip-off, washable cover completes the design. The fabric it uses is stain-resistant as well. This combination of materials enables you to achieve a comfortable, pressure-relieving, and refreshing slumber.

Firmness & Feel
At level 5 firmness, Puffy has a more inclusive feel. It is not too hard or too soft. This leaves users with a lot of room to lay comfortably on the mattress. The magic of it is that it can be firm and soft at the same time. It is the top layer's adaptive properties that are at work here.
A bed with a universal comfort score is ideal for every kind of sleeper–back, side, stomach, and combo. Those with a physical condition or recovering from one can also rely on a bed that feels just right. It's firm enough to support your pressure points while gently cushioning the rest of your body.
Cooling
The Puffy Mattress helps save the reputation of memory foams in this regard. Unlike traditional ones that make you feel like resting in a sauna, this one lets you snooze in a cool environment. Its ClimateControl technology regulates temperature. It can cool you down in the middle of summer nights and warm you up a bit during the dead of winter.
Near the surface, the memory foam is also infused with cooling gel. Even if it's all-foam, it doesn't behave like its predecessors and allows the mattress to "breathe".
Edge Support & Sinkage
This may not be the product's strong point, but edge support is pretty decent. It performs like similarly-constructed memory foam mattresses. It can be a big deal for you if you are sharing your bed. You can't forever compete with them for the middle zone. So with good edge support, you can rollover to the perimeter without worrying if it will hold. Plus, it makes the entire surface usable.
This is also good news for those who sit on the edge. Premature sagging won't be a cause for concern among owners.
Motion Transfer
On the other hand, this all-foam design is excellent at isolating motion. For those who are not familiar with the term, this means the bed is great at containing motion, preventing you from feeling shakes and ripples when your partner shifts positions in their sleep. If it is you who moves more often, this can be a godsend to your partner.
Sleepers who are easily disturbed benefit the most from a mattress that can significantly reduce motion transfer.

Pricing
Well within the average price point on the market, the regular cost of a queen-sized Puffy Mattress is $850. This is a great starting rate for those who want an all-foam option that's affordable and high-quality. Financing is available for those who are eligible to apply. You can pay as low as $25 monthly for 6 or 12 months with Klarna.
In comparison, Leesa mattress costs just about the same. But it's a bit pricier than the Nectar Mattress or T&N Mattress.
Read our full review of the Best Online Mattresses.
Other Factors
As of publication, the Puffy Mattress is available exclusively online and directly from the company. Your bed is compressed (together with others in small batches) and placed in a box. Then it will be delivered to your doorstep for free if you live in the contiguous United States or Canada. It comes with a 101-night sleep trial. Your money will be refunded in full in the event of a return.
This product is backed by the company's lifetime non-prorated warranty.
The Puffy Lux Mattress
Construction & Materials
The Puffy Lux Mattress sports the same layers found in the signature model Puffy Mattress. Yet, it adds another layer that makes it 2 inches thicker. It doesn't look bulky, but it's packed with materials that promise to bring you a comfortable and refreshing sleep. What's inside it?
Aside from the Cooling Cloud Foam, ClimateComfort, and Firm Core Support, there's the Plush Dual Cloud layer. It is responsible for two things: contouring your body's curves and eliminating pressure points. Whether it's wellness or recovery you're after, this foam will help you get closer to achieving it.
Just like the original Puffy model, this thicker and taller version features adaptive foams to customize firmness and softness. This means that parts of the bed will adapt to the weight and pressure you put on them. The firm layer also reinforces this quality while promoting stability all throughout. Through its strength, the bed can be stable on any type of foundation.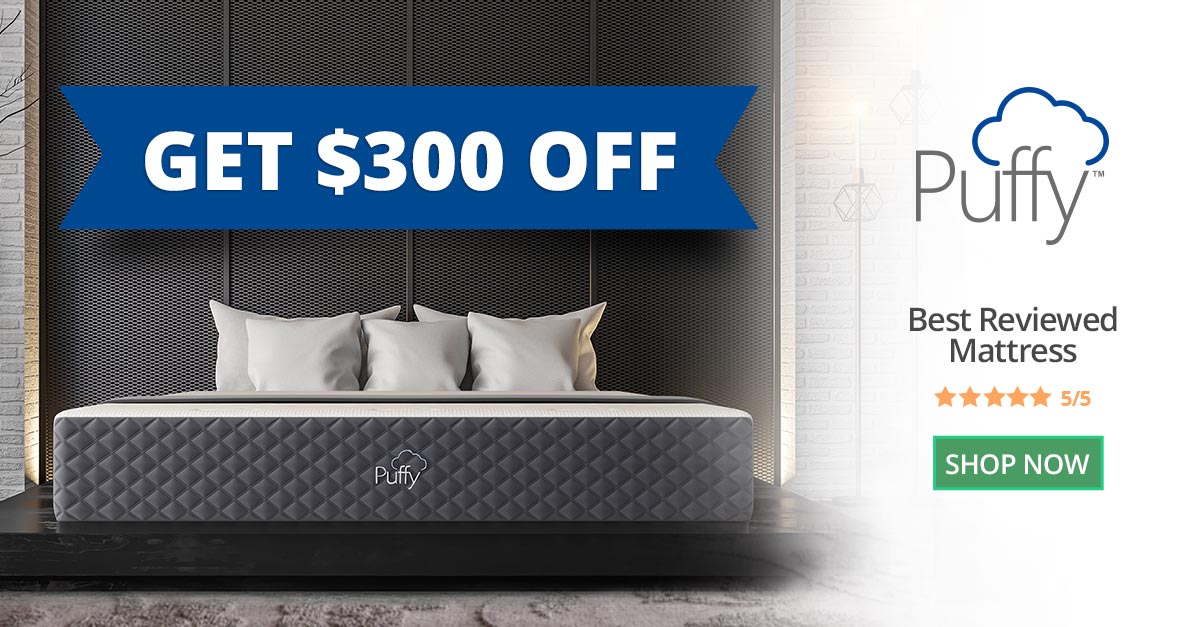 Firmness & Feel
This baby has a 5 to 7 firmness score, meaning it feels just right. The range caters to many sleeping types and firmness preferences. Even stomach sleepers can enjoy dozing off on this one. While it's firm and supportive, you can still feel the softness in some areas, especially those targeting your non-pressure points.
One potential downside to both Puffy Mattress models is that they come in a single firmness. Their medium-firm grade may or may not cancel out that downside.
Cooling
Compared to other memory foam mattresses, the Puffy Lux sleeps cooler. The top layer takes care of pulling heat away from your body. Puffy tested the rate at which to do this to ensure your body stays within a temperature-neutral zone. You can also rely on the ClimateComfort to enhance this factor. This all-foam has good breathability as well–something you seldom find in all-foams, especially when they use high-density layers.
Edge Support & Sinkage
Edge support is improved in this model. There's little to no sagging when you sit on the edge. As it's stable at the perimeter, you won't feel like falling off to the floor should you roll over in your sleep. Given this good news, you can probably imagine how its lifespan can be prolonged–no premature sinkage on the edges. Plus, it makes the surface area look bigger than it is.
Motion Transfer
Motion isolation is already as good as it is in memory foam beds. The Puffy Lux dishes out the same high quality. This means a peaceful, undisturbed sleep for couples who sleep lightly. All-foams are your top contenders when it comes to motion transfer. There is no doubt the Puffy Lux, with its thickness and construction, brings all the best in the Puffy Mattress and enhances it here.

Pricing
The Puffy Lux Mattress costs a bit higher than the original version. A queen-sized model is regularly sold at $1,795. Promos are a must-watch if you're looking to snag a good deal. Can't afford it? Why not apply for financing? You can pay as low as $25 per month for 6 to 12 months. Check if you're eligible to Klarna's program.
Other Factors
The Puffy Lux is available only from the company's website. Puffy ensures it is not compressed in its box for a long time. Once your order is paid, expect it to be delivered within 2 to 5 business day–free of charge. Free shipping is a perk enjoyed by customers from the contiguous United States or Canada. A 101-night sleep trial, full refund, and lifetime non-prorated warranty come with the mattress.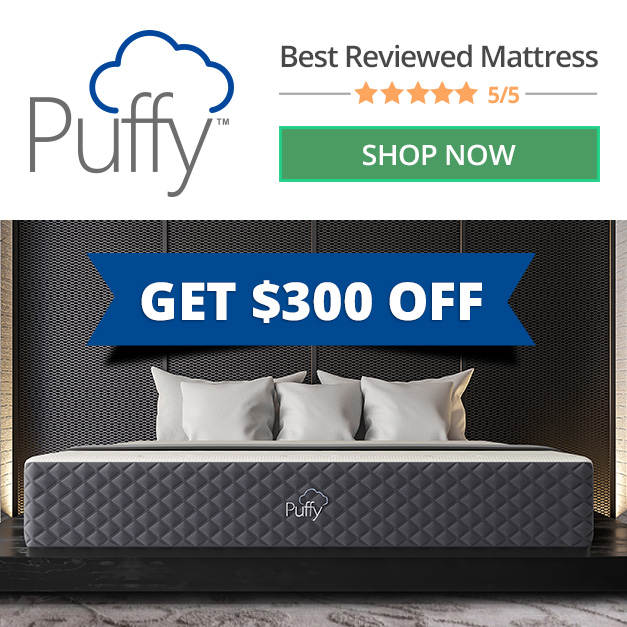 Why You Should Buy A Puffy Mattress
If you sleep hot and still like to enjoy the contouring and supportive effects of memory foam, you should bet on either model of Puffy Mattress. Both contain materials that effectively regulate temperature. This allows you to stay cool during the summer and warm during winter.
Consider getting the Puffy Lux Mattress if you're after a couple's bed that isolates motion significantly. Don't hesitate to add it to your shortlist, especially if you or your partner is a light sleeper or a combo sleeper. Also, you can benefit from this model's improved edge support.
Both models from Puffy are excellent in conforming to the shape of your body. This is great news for those who are suffering from physical conditions, such as back pains; those in recovery from injuries; and those who generally want to improve their sleep quality. However, this translates to less bounce.
Why You Should Not Buy A Puffy Mattress
Couples who love to have some bounce during passionate nights may do well to avoid any of the Puffy mattresses. These beds are highly contouring, so they will follow the unique shape of your body. On the downside, this feature translates to less bounce.
Do you prefer a firmer or plusher mattress? For instance, you're on the heavy side and need something thicker to support you. Or maybe you just want the sink-in feel that memory foam mattresses are capable of. In such cases, medium-firm may not suit you. Start checking out other options.
Lastly, if you're the type who's concerned about durability, this relatively new brand has yet to prove itself in this area. Remember that it only started creating a buzz 2 years ago. While the Puffy team spent 4 years perfecting its memory foam layer, this does not automatically make the product durable. It needs more time.
The Verdict
The Puffy Mattress piques the curiosity of online customers. It has built a reputation as a company that makes
contouring
,
cooling
, and
comfortable
mattresses. Both offerings–the Puffy and the Puffy Lux–have pretty high marks in multiple areas of consideration.
Their pricing is also competitive. We recommend both of them to all sleeper types, specifically those of average weight.
It would be better if Puffy makes its models available on other marketplaces. This can widen the reach of the company. There are others who wish they are sold in brick-and-mortar stores. However, we think this will incredibly raise the prices of both models.
So, how about you? What do you think of Puffy Mattress? Which model do you like more? Let us know in the comments.