Sleeping better allows you to do things better during the day. This is why it's so important to pick the right mattress to snooze in. When searching for a bed, among the important factors to consider are its construction and materials, firmness and feel, temperature regulation, motion transfer, and pricing. But if you're waking up with back pain with your old mattress, it's time to switch things up.
We must add that you specifically look for the best mattress for back pain, as reviewed and rated by experts. We'd also scour online sites and marketplaces for what verified customers say about their purchase. Learn from the bad experiences and get inspired by the stories behind those shining 5 stars.
But you must be busy. So we did all the digging for you. What you'll read next is a summary of all the points made about the designs that made our best mattress for back pain list.
For a start, make sure to know the kind of back pain that different people experience. And then check out the 3 types of pain: acute, chronic, and neuropathic. You can click on specific sections in the Table of Contents to customize your browsing.
Back Problems to Watch Out For
Getting familiar with your symptoms not only serves as a guide to finding the best mattress for back pain. It also promotes body awareness. And this can help you in many situations. Understand that pain is a symptom or a combination of symptoms, so there's an underlying cause.
When there are no longer anatomical causes detected, such as injury, the probability of pain being the disease itself is considered.
We only have time to discuss the common symptoms in this guide. But you can read more about chronic pain with no identifiable cause later.
1. Lower, Middle, and Back Pain
The persistent ache that runs from the base of the neck to the tailbone
Stabbing pain in particular areas across the back when performing strenuous activities
Chronic pain felt at the lower and middle back after standing or sitting for a long time
Back pain that starts from the lower back down to your buttocks, legs, and feet
Having muscle spasms in the lower back, which prevents you from standing straight
2. Sciatica
Pain experienced in the lower back and/or hip
Constant ache in the buttocks, which only occurs on one side
Burning or tingling down the leg
Pain in the buttocks or legs that gets worse when you sit
Stabbing pain that makes it hard for you to stand up
3. Low Back Strain
Pain and stiffness in the back
Ache felt in the buttocks or, usually, behind the thighs
Pain aggravated by bending, coughing, sneezing, or stretching
4. Nighttime Back Pain
Best Mattress for Back Pain – Unbiased and Updated
1. The Nectar Mattress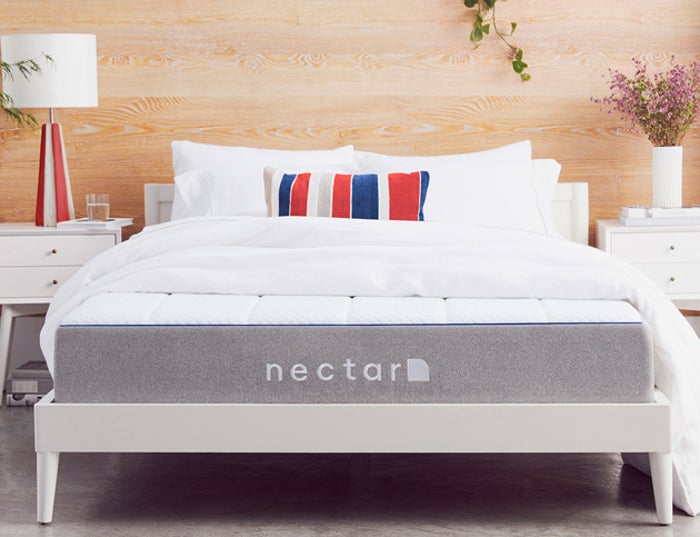 One of those bed-in-a-box designs, the Nectar Mattress matches high quality with affordable price. Its multilayer foam is built to offer breathability and support. The top layer is quilted memory foam placed on Nectar's signature gel memory foam. Underneath are the support of memory foam and the breathable foam base. The mattress structure is completed by a cooling cover.
Why is it the best mattress for back pain? It provides you with proper back support while maintaining softness on the surface. It has a medium firmness that caters to all kinds of sleepers. At 5.5-7.5, this firmness is also ideal for those experiencing lower back pain.
Special features: Polyfoam technology combines the 3 major benefits of an excellent mattress: comfort, contour, and coolness. It's designed to cradle your body at its pressure points. But even though it's firm, you will still feel comfortable laying on its soft surface.
While memory foam is known for sleeping hot, the top layers of the Nectar Mattress promote air circulation for improved breathability. Sleeping cool won't be a problem with this one.
Shipping, return, & warranty: Every Nectar Mattress order comes with a 365-night risk-free trial period. It will be delivered free of charge to your doorstep. If you request to return it within the trial period, Nectar will shoulder the return costs. Should you decide to keep it, you could keep your access to a lifetime warranty.
Price: A Nectar Queen Mattress (no add-ons) is sold at $824. You can get it for less during special holidays and promos. A twin model retails at $399 and a king, at $1,024.
Read our full review of the Nectar Mattress.
Pros
Supportive and breathable for an all-foam.
Contours your curves for pressure relief.
Comes with a 365-night sleep trial.
Very affordable.
Available directly from the company or on Amazon.
Cons
Little off-gassing upon decompression.
May be too firm for some users.
Why we like it
Improved breathability of polyfoam layers.
Supports and contours your body.
Very affordable.
2. The Casper Mattress
The Casper Wave is the most advanced mattress from Casper yet. You can choose between the all-foam and hybrid designs for better customization. The latter combines foam and springs. But both contain layers of velvety-soft comfort foam, breathable latex foam, and pressure-relieving memory foam.
The spring system offers lift and bounces for that traditional mattress feeling. More springs are built into the perimeter so you can ease into and out of the bed. However, it's the targeted gel pods that work hard to support your hips and core.
Why is it the best mattress for back pain? The Casper Wave responds to your body's movements in giving it support. This helps your spine fall into its natural alignment. The pressure is also taken off other body parts like necks, shoulders, and joints. Because of these benefits, the American Chiropractic Association has endorsed the Casper Wave.
Special features: Casper's ergonomic technology uses precise contours and targeted gel pods to promote correct spine alignment. The contours relieve pressure off the right body parts. Meanwhile, the gel pods help align 27 key points. These enable the Wave to strike an excellent balance between firmness/support and softness/comfort.
Shipping, return, & warranty: Get access to a 100-night risk-free trial period free shipping and returns, and 10-year limited warranty when you buy a Casper Wave mattress. In case of returns, the company will provide you with a full refund and free return shipping.
Pricing: Casper mattresses are a bit on the pricey side. You can have a queen-size bed for $2,155.
Pros
Offers all-foam and hybrid designs.
Promotes proper alignment of spine.
Contours and cools the body.
Cons
Finding the right size is important for couples.
Little off-gassing.
Why we like it
Precise contours for targeted pressure relief.
Balances firmness and comfort.
Sleeps cool.
3. The GhostBed Mattress 
The Ghostbed mattress is made of multiple layers that include latex foam and memory foam, making it a dependable source of body support. It's covered with plush and developed with a high-density foam base. It is also compatible with different types of bed frames: adjustable, boxspring, and slatted.
Why is it the best mattress for back pain? This mattress is thick (11 inches) and firm (6.5). It is highly recommended for people on the heavy side who are suffering from hip and back pain. But it also works wonders for those who want a firmer bed as it conforms to your body and aligns your spine.
Special features: Great pressure relief and spine support are the top benefits you'll get from a Ghostbed mattress. Its foundation keeps you feeling refreshed and pain-free upon waking up. Both latex and memory foam layers let you sleep cool. And the surface has the right softness and bounce to ensure all-night comfort.
Shipping, return, & warranty: Ghostbed mattress buyers are entitled to a 101-night free trial. This goes hand-in-hand with free shipping and 20-year warranty. How about returns? You have to have directly purchased your bed from the company to take advantage of the return terms.
First, you can submit a return request between 30 days after delivery and before or on the 101st day of your trial period. Next, Ghostbed will work to make it right or issue a refund.
Pricing: The regular price for a twin mattress is $545. But watch out for promos during special occasions to save up on Ghostbed product bundles.
Pros
Firm support blending latex and memory foam.
Relieves pain in the hips and back.
Sleeps cool.
Cons
Takes some time getting used to.
May be too firm for side sleepers.
Why we like it
Relieves hip and back pain.
Supports heavyweight sleepers.
Pretty affordable.
4. The Bear Mattress
The Bear Mattress sports triple foam layers and a Celliant cover. It's designed for athletes, as well as people with active lifestyles or those who are in a recovery state. Also, this bed accommodates any sleeper style.
Why is it the best mattress for back pain? Its firmness level falls under medium-firm to the firm (5.5 to 7), at exactly 7.12 based on customer feedback. This is well within the firmness scale deemed perfect for back and stomach sleepers. The Bear is quite firm so as to prevent your spine and sides from sinking too much, which otherwise can cause back pain.
Special features: Aside from having the right firmness, the Bear Mattress uses Celiant technology to power up your performance. The Celiant cover is made of Food and Drug Administration-approved yarn technology that converts body energy (heat) into light energy (infrared). In turn, the infrared helps reenergize the body. This is why it can boost an athlete's energy or speed up anyone's recovery.
Shipping, return, & warranty: This bed comes with a 100-night free trial. Both shipping and returns are free, and you get a full refund should you decide within the trial period that it's not for you. Just like most brands, Bear offers a 10-year warranty for its mattress products.
Pricing: The Bear Mattress can be bought for as low as $545. A queen-sized model can be yours at $840.
Pros
Boosts athlete's energy and performance.
Firm enough for stomach and back sleepers.
Features a Celiant cover for cooling effect.
Cons
May be too firm for side sleepers.
Why we like it
Uses innovative Celiant technology.
Ideal for athletes and active people.
Sleeps relatively cool.
5. The DreamCloud Mattress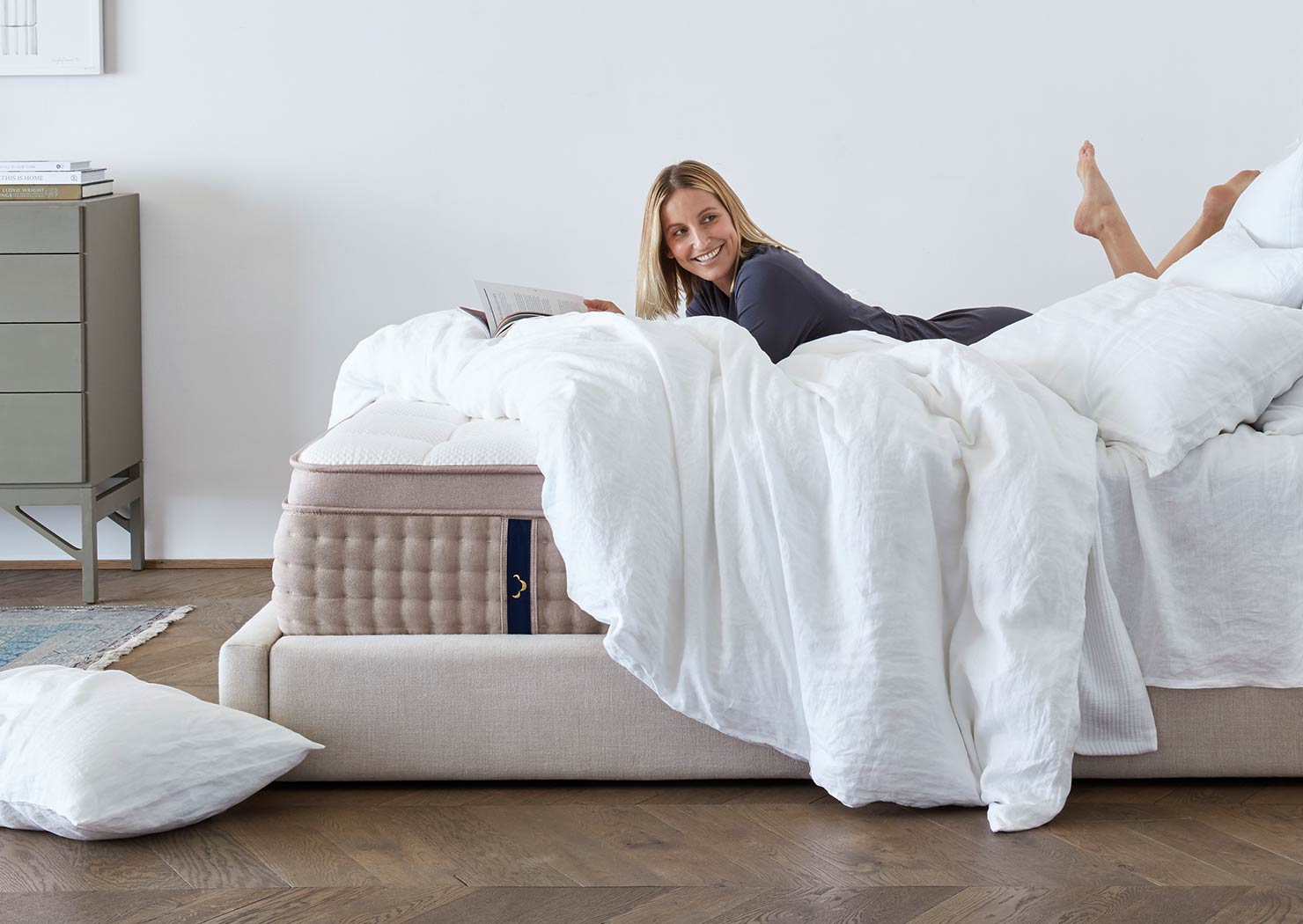 This memory foam boasts not 5 but 8 layers of premium materials. Let's begin with the high-density foam foundation, which is super soft. Then comes the BestRest (patent pending) that features a pocketed micro-coil system for sturdy support. The contouring job is handled by two high-density memory foam layer found beneath a bouncy natural latex layer.
It doesn't stop there. The gel-infused memory foam not only supports your body; it cools it, too. A cashmere polyester blend cover finally gives it the premium look. See for yourself how plush and breathable it feels when you sleep.
Why is it the best mattress for back pain? The DreamCloud Mattress is the best memory foam for general back pain. It registers a 6.5 firmness level, which is not too soft and not too hard.
Special features: The 8-layer hybrid design is one of the most precise in the industry. It sleeps cool thanks to efficient heat distribution. The coils do well in terms of providing support. And the cashmere cover gives that luxurious comfort and feel.
Shipping, return, & warranty: A year-long trial should be enough for you to test out a mattress. DreamCloud gives you 365 nights to see how its bed fares in all four seasons. On top of that, if you decide to keep it, you'll enjoy a lifetime warranty. Free shipping and returns, as well as financing, are also available.
Pricing: A DreamCloud Queen Mattress is typically sold at $1,199. A twin version is priced $699 while a king one costs $1,399.
Pros
Blends comfort with support.
Distributes heat evenly.
Precise hybrid design: not too soft, not too hard.
Cons
Not ideal for buyers on a budget.
Why we like it
Not too soft, not too firm.
Sleeps relatively cool.
Cashmere cover feels luxurious.
6. The All-New Purple Mattress
Personalized comfort is a top priority for mattress-maker Purple. Through the All-New Purple Mattress, it yet again proves that it can engineer a bed that adapts to your body's natural shape, temperature, and motion in sleep.
Why is it the best mattress for back pain? In particular, we name it the best mattress for back pain affecting side sleepers. The reason is that it responds to your pressure points no matter what sleep position you're in. That means your curves are supported, like your shoulders and hips, when you're laying down on your side.
Special features: The star of the Purple Mattress design is the Smart Comfort Grid. It adapts to any shape, size, and pressure. It cushions you just right while also regulating temperature and isolating motion. It's a perfect choice for those who want to wake up pain-free and sleep undisturbed at the same time. Further, the All-New Purple Mattress is hypoallergenic, non-toxic, and durable.
Shipping, return, & warranty: Select between a complimentary white glove delivery or free shipping. Purple will also remove your old mattress at your request. Then, you can try out the new one, which comes with a 10-year warranty, for 100 nights. If you think it isn't for you, Purple will pick it up and handle the return shipping.
Pricing: Purple is a bit more expensive than other bed-in-a-box mattresses. Its prices start at $1,299 (Twin XL).
Pros
Employs Smart Comfort Grid for greater adaptability.
Conforms to the pressure you exert on it.
Regulates temperature.
Cons
Pricier than earlier models.
Why we like it
Adapts to your natural shape.
Conform to the pressure you exert on it.
Sleeps cool.
7. The Layla Mattress
The dual firmness featured in the Layla Mattress is hard to beat. Do you prefer a soft or firm? Just flip the mattress to one side to adjust its firmness. Both sides are infused with copper, gives the right support, and cools your body while you sleep.
Why is it the best mattress for back pain? Its firmness options offer customization for those who want to know which suits them best. But the real hero is the copper infused into the memory foam. This material yields great and even support to your body all night no matter which side you're on.
Special features: We already mentioned what makes the Layla Mattress impressive. It's the copper found within its layers of memory foam. Copper has cooling and antimicrobial properties, keeping you cool and clean in your slumber.
Moreover, the Layla Mattress drives stiffness and soreness away. With its reliable support system, your spine is aligned naturally, so you can say goodbye to back pain. The bed is also reported to relieve shoulder and hip pain.
Shipping, return, & warranty: The Layla Mattress is delivered to your doorstep free of charge, except for when you live in Alaska or Hawaii. From there, you're going to get a 120-night trial. Within that period, you can return the mattress if you don't like it. The company will take care of picking it up and shipping it back. You'll also get your money back.
But if you do like it, the mattress plus a lifetime warranty are yours to enjoy. The warranty "covers sagging (more than 1"), loss of shape, splitting or cracking of the foam, and loss of mattress height," according to Layla's website.
Pricing: You can purchase a Layla Twin Mattress at $599. Discounted designs are available on special occasions each year.
Pros
Adjustable firmness in just a flip.
Infused with copper for a cool and clean sleep.
Aligns spine naturally.
Cons
May show signs of wear and tear early.
Why we like it
Dual firmness options.
Copper-infused memory foam.
Supports spine naturally.
8. The Brooklyn Signature Hybrid Mattress
This hybrid mattress offers the best of both worlds starting with a foam base that supports the coil base. On top of it is the 6-inch support base containing 1,024 individually encased Ascension coils. Then add a 2-inch Energex foam layer that enables deeper compression support. Finally, there's a 2-inch top layer of patented TitanFlex foam that combines the contouring effects of memory foam with the responsiveness of latex foam.
Why is it the best mattress for back pain? This hybrid mattress offers great support thanks to its pocketed coil system. Both the memory foam and latex foam balance the bed's firmness with adequate contouring and bounce. In addition, you can choose from Soft, Medium, and Firm to achieve maximum customization and comfort.
Special features: We already mentioned the multilayered design of the Brooklyn Signature Hybrid Mattress. To add, the TitanFlex foam is infused with TitaniumGel, which has cooling and antibacterial properties. The firmness options are also highly customized for different sleeper types. Soft for side sleepers; Medium for combination back, stomach, and side sleepers; and Firm for stomach or back sleepers.
Shipping, return, & warranty: When you order from Brooklyn Bedding, you get your mattress delivered in a box for free. A 120-night risk-free trial comes with the bed, which you can return at the shipper's cost. But if it suits your taste, it's all yours. Sleep safe and secure with a 10-year-warranty.
Pricing: Prices start at $599 (Twin). The rate is the same across all firm options.
Pros
Provides deeper compression support.
Multiple firmness options.
Employs TitanFlex which has cooling properties.
Very affordable.
Cons
Customer service can be inconsistent.
Why we like it
Deeper compression support.
Firmness options for sleeper types.
Has cooling and antimicrobial properties.
9. The Alexander Signature Hybrid Mattress
Nest Bedding's Alexander Signature Hybrid Mattress features a pocketed coil system on top of a support base foam and a core support foam. Near the surface, you'll have the 3-inch TitanChill Endurance Foam and ¼-inch gel-infused memory foam. Everything is wrapped up neatly by a super soft quilted fabric.
Why is it the best mattress for back pain? It has various firmness levels you can choose from. So if you're lightweight, something plush with good support should carry you through the night. You may want to stick with Plush, Medium, or Plush & Medium.
Special features: The Alexander Signature Hybrid is ergonomic, durable, cooling, and comfortable. It's more breathable than traditional memory foam. Yet it also has the bounce and support of a spring mattress.
Shipping, return, & warranty: This design is made to order and ships free in the United States, except Alaska and Hawaii. You may initiate an exchange through the company's Comfort Exchange Program (with a required 30-day adjustment period and within 100 days of delivery). For returns, close communication with Nest's customer service is advised.
Pricing: This luxury brand sells a twin-size model for $899.
Pros
Supportive and durable.
Good bounce and breathability.
Caters to sleepers of light and average weight.
Pocket coil system reduces motion transfer.
Cons
Might be expensive for people on a budget.
Why we like it
Blends support and comfort.
Good bounce and motion isolation.
Offers firmness options for sleepers of light and average weight.
10. The Allswell Signature Hybrid Mattress
The Allswell Signature Hybrid Mattress boasts 2 gauges of coils supporting a breathable memory foam. Get the just-right, medium-firm feel from this foam-coil technology.
Why is the best mattress for back pain? Its nice balance of pressure relief and support makes it a perfect choice for those who snooze on their tummy.
Special features: The Allswell Signature Hybrid Mattress has a firmness level of just right (4.5 to 6.5). That makes it great for all types of sleepers who want the contouring properties of memory foam and bounce of a spring mattress. The added edge support is a plus especially for those who love to roll over toward the edge in their slumber.
Shipping, return, & warranty: Allswell offers free ground shipping, 100-night risk-free trial, and 10-year limited warranty. White glove delivery, mattress removal, and recycling fees are subject to the company's terms.
Pricing: The introductory price for this mattress is an insane $245 (twin).
Pros
Features universal comfort.
Balances contour and bounce.
Improved edge support.
Low-cost mattress.
Cons
May not be ideal for side sleepers.
Why we like it
Supports and contours stomach sleepers.
Good edge support.
Highly affordable.
3 Types of Pain
Aside from the symptoms, you also need to know how humans can experience pain. The three categories are acute, chronic, and neuropathic.
Acute Pain
This type of pain lasts a short while. Mild versions occur in a moment, such as when you get a paper cut or a needle prick. Severe ones go on for 3 to 6 months. Burns, broken bones, dental work, labor pains, and surgery are some more examples of acute pain.
Chronic Pain
This term is used to describe the pain that lasts longer than 3 to 6 months. Or that which is related to irreparable tissue damage. Chronic pain can be divided further into pain with an identifiable cause and pain with no identifiable cause.
The first kind refers to pain that persists until the cause is treated. Some examples are degenerative disc disease, spinal stenosis, and spondylolisthesis. If nonsurgical treatments do not resolve these issues, they can be nominated for spine surgery. The second kind denotes pain that lingers after the tissue has healed. In this case, there may no longer be structural problems that can be identified as the cause.
Neuropathic Pain
This type of pain is thought to originate in the sensory or motor nerves of the peripheral nervous system. It can be felt as numbness, tingling, or weakness along the nerve path extending from the spine toward the limbs. If not for these symptoms, you can mistake neuropathic pain for chronic pain.
The Verdict
There you have it: the best mattress for back pain. Our guide took it further by recommending brands and models for specific conditions. And that's what you should aim for when shopping for a new mattress. Customize the specifics to your needs. Treat this purchase as an investment and your overall comfort and well-being as the greatest ROI.

Our list contains affordable to premium options. But all of them are not cheap. That is, none of these brands sacrificed quality just so they could sell more for less. We picked these choices for your peace of mind. And full, uninterrupted, pain-free sleep at night.